WanaBana Apple Cinnamon Fruit Puree Pouches Recall
An FDA warning about the possibility of lead in children's snack food has caused a popular brand to be recalled. WanaBana voluntarily recalled its Apple Cinnamon Fruit Puree Pouches without limitation on lot number or expiration date. WanaBana issued the recall after the FDA issued a public health alert warning parents and caregivers not to buy or feed the pouches to children due to the potential for elevated levels of lead. The product is sold at various retailers including Sam's Club, Amazon, and Dollar Tree.
Elevated levels of lead pose a severe health risk, particularly to young children. If you suspect that your child may have consumed WanaBana Apple Cinnamon Fruit Puree Pouches, it's essential to act promptly. The FDA recommends contacting your child's healthcare provider to obtain a blood test.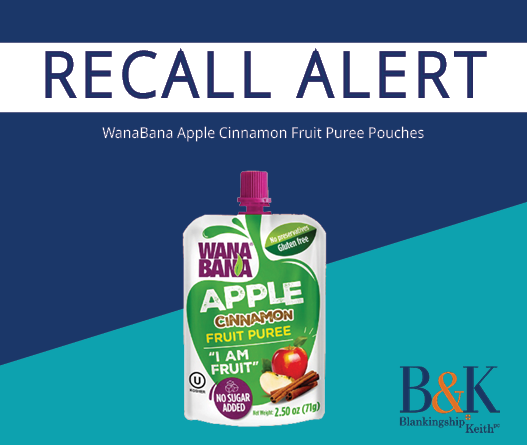 Lead is a toxic substance that can have devastating consequences, especially when children are exposed to it. The effects of lead exposure can be particularly harmful and can have both short-term and long-term impacts on a child's health and development. Some of the short-term effects of lead exposure may include headache, abdominal pain, vomiting and anemia.
Long-term effects of lead toxicity can have severe and lasting consequences. Some long-term effects of lead exposure in children include cognitive impairment, behavioral and emotional issues, learning disabilities, developmental delays and speech and language disorders and health problems.
For more information, visit the FDA 's voluntary recall announcement.